Feature Description
Ginnee Chat support to view buyer review, reply review from buyer and also remind buyer who give bad review for Shopee & Lazada store.
Highlight
There will be number mark notification which refer to total bad ratings (1-3 star) in last 2 days. The total number of review will be highlight by the small red number which more convenient to remind merchant to follow up and handle negative review in time.
The main account can operate all permission in review management. Ginee chat also support main account to assign to sub-account the permission of review management and replying the review from buyer.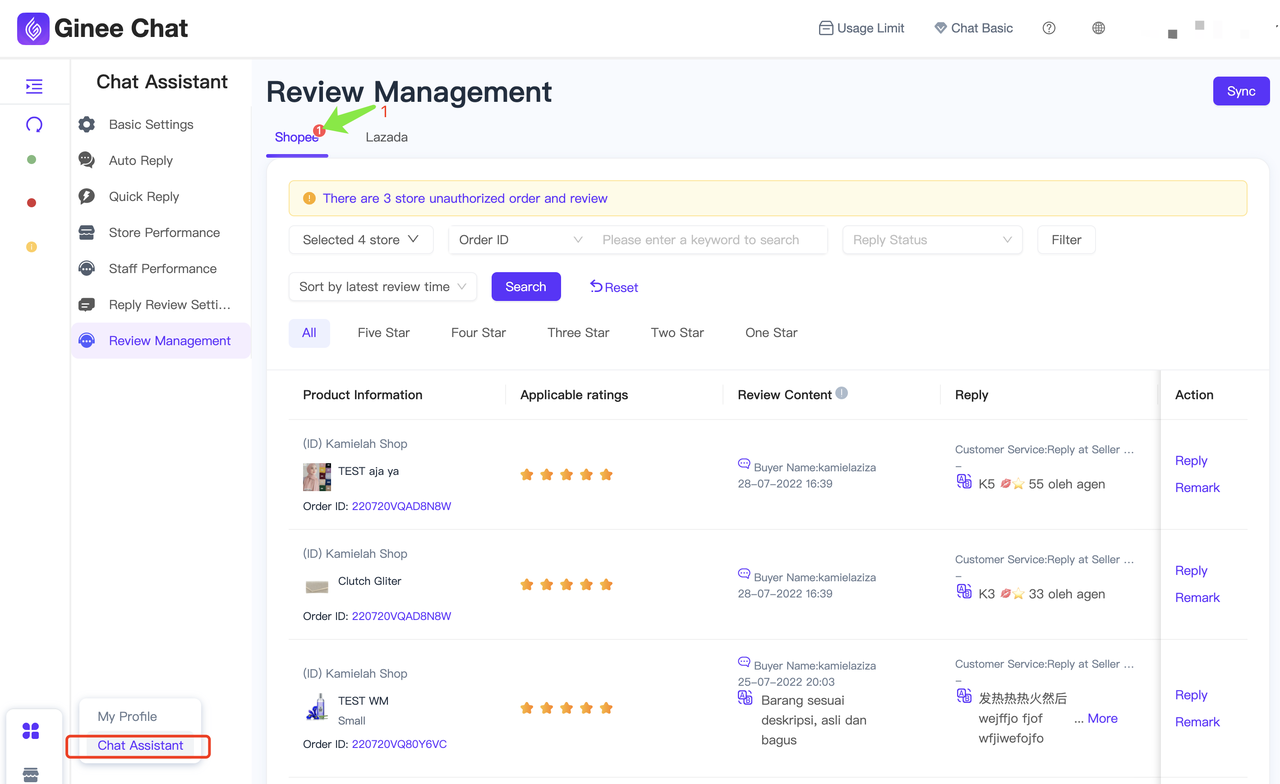 Shopee Channel
To manage review from Shopee store, you need to authorize Shopee Order API
The review list of Shopee store only support synchronize the last 600 review (Limitation from Shopee API)
For Shopee store review, it support to auto-sync every 4 hour and also manual sync
Lazada Channel
For newly authorize Lazada store, you need to wait for next day to automatically sync but also support to manual sync.
For newly authorize Lazada store, it can synchronize review from last 3 months.
It support to automatic sync every 4 hour, and support to do manual synchronization
How To Manage Store Review?
Log in  to Ginee Chat account – Management Center – Chat Assistant – Review Management – Select Platform – View & reply review from buyer
Support to view picture & video in buyer review (Currently due Shopee API limitation, picture & video from Shopee buyer will not be displayed)
It support to translate buyer review's reply and remark (only visible to seller on Ginee Chat) into corresponding site language (English, Bahasa, Thai, Vietnamese and Chinese)
  Click on the order number to view the order information
Support to search review and sort by review's star
Click Chat Button to contact the buyer