(Ini adalah Fitur yang Akan Datang)
(1) Manajemen stok versi baru, tidak lagi mengintegrasikan Master SKU sesuai dengan platform SKU. SKU utama akan diintegrasikan langsung ke dalam variasi produk di saluran. Setiap variasi saluran hanya dapat diintegrasikan dengan 1 SKU Utama. Produk saluran yang tidak memiliki SKU juga dapat diintegrasikan dengan Master SKU.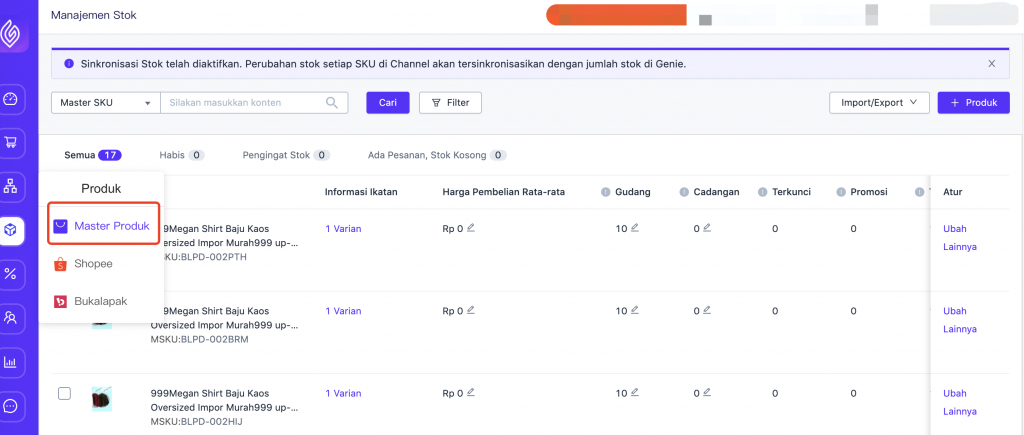 (2) Mengintegrasikan produk channel atau merilis Master SKU terintegrasi hanya dapat dioperasikan di Ginee. Tidak perlu mengedit di Seller Center.
(3) Langkah-langkah untuk mengubah atau megintegrasikan secara massal:
Pemutusan Integrasi Massal:
● Langsung ke daftar Master Produk – Tekan SKU atau Master SKU untuk menemukan Master Produk – Master SKU – Klik informasi integrasi, cek informasi integrasi Master SKU.
● Di jendela pop-up – terintegrasi: menampilkan produk channel yang terintegrasi Master SKU. Jendela Pop-up – Semua: menunjukkan semua produk channel yang telah terintegrasi ke Ginee.
● Beralih ke tab pop-up – terintegrasi, cek produk dan putuskan integrasi.
● or directly on the channel product list – click on the Master SKU to jump to find the integrated SKU
Bulk Integration:

● Langsung ke daftar Master Produk – Temukan Master SKU untuk ditambahkan, klik informasi integrasi, cek pop-up Informasi integrasi Master SKU.
● Cari nama produk channel di jendela pop-up, SKU produk platform saluran menemukan produk channel. Jika produk saluran sudah terintegrasi pada SKU Utama lain, Anda perlu memutuskan sambungan dan mengintegrasikan kembali.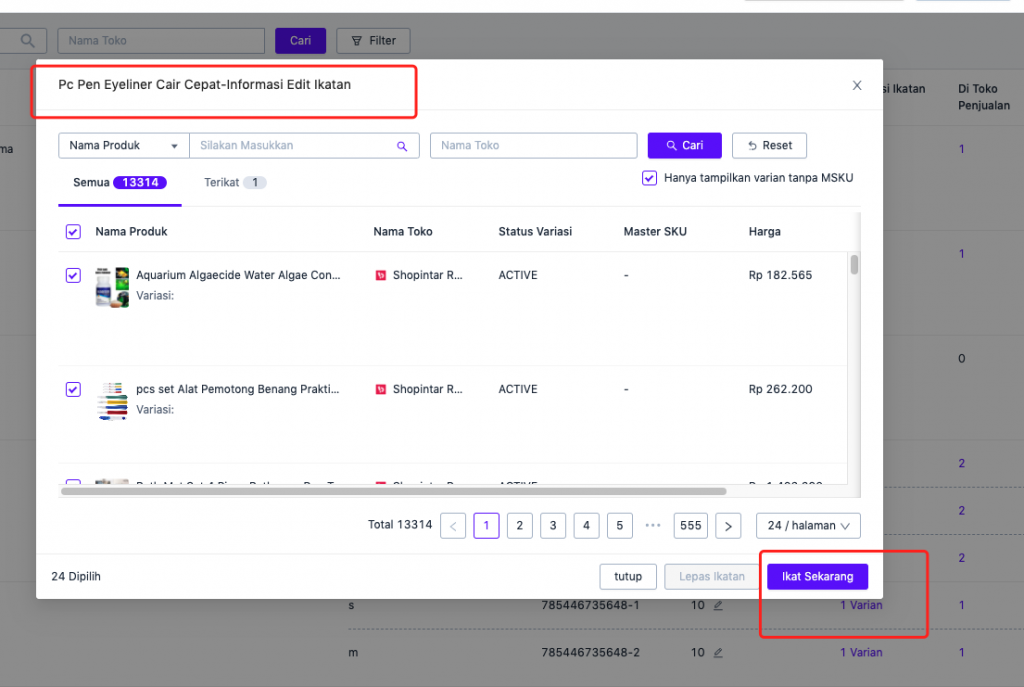 Riwayat Integrasi:
● Riwayat integrasi dan pelepasan integrasi dari Master SKU dan produk channel akan dicatat dalam riwayat integrasi Master Produk.
● Masuk ke – Daftar Induk Produk – Cari SKU Utama – Kelola – Riwayat Integrasi, di sini Anda dapat memeriksa riwayat integrasi.