Starting an online business, or any business for that matter, can seem quite daunting. Worrying about what products to sell, how to set it up, and especially how to grow that business are all very essential yet difficult things to figure out. However, there are various tools and strategies that will help you run and optimize your business really easily. 
Your Selling Stock is Messing Up? You Need Help!
Ginee Omnichannel allow you to automatically sync every stock from all of your online stores. It's faster way to helps you profit!
What is Business Model Canvas?
An idea or concept can be rapidly and readily defined and communicated using the Business Model Canvas (BMC). It's a one-page article that goes through the basics of a company or product, helping to organize thoughts.
The business model canvas is a useful tool for gaining a clear understanding of a company's business model. It provides insights about your clients and  value propositions supplied through various channels that can help you better understand how your firm makes money.
See also: Successful Online Business Ideas 2021
9 Components of Business Model Canvas
In order to make a Business Model Canvas you need to understand the different components it has. Essentially, the canvas has nine different components that you need to understand. These components include customer segment, value propositions, channels, customer relationships, revenue streams, key activities, key resources, key partnerships, and cost structure. The components and what they tackle are as follows:
Customer segment: Who are the clients in this scenario? In their opinion, what are they thinking?
Value propositions: What makes this idea so enticing? Would customers acquire and use the products and for what various reasons?
Channels: What methods are used to market, sell, and deliver the value proposition? Why are these methods used and how can they be improved?
Customer relationships: How does the business interact with the customer throughout the process?
Revenue streams: On the basis of value propositions, how does the company generate revenue?
Key activities: What are the company's most innovative and strategic approaches to delivering on its promise?
Key resources: What are the company's key strategic assets if it wants to remain competitive?
Key partnerships: If the company cannot focus on its Key Activities, what else can it do?
Cost structure: In what ways does the company's cost structure change? What's the connection between these things and money?
Related: How to Start an Online Business?
Do You Want to Manage Multiple Marketplace Just by Single Person?
Of course you can! You can handle multiple stores from all marketplace just by single dashboard. Cut your Business's cost, and Boost your Efficiency at the same time.
How BMC Can Help Your Online Business?
In terms of why you should consider using the Business Model Canvas, there are four distinct reasons as to why it can help you improve your businesses.
The first reason is because it provides focus as to what is really necessary. Unlike the traditional 30-page business model, BMC helps to improve business owners' clarity and focus on what's driving the business. The second reason is because it improves flexibility. With the single-page approach, the BMC makes it much easier to make changes and try new things (from a planning viewpoint).
The third reason is because it encourages team-wide transparency. BMCs make it a lot easier for your team to comprehend and buy into your vision when it's written out on a single page, so make it as transparent as possible. The last reason is because through using the BMC you'll be able to better understand your company and draw links between your concept and how to turn it into a profitable business.
Related: Marketplaces in the Philippines
How to Create a Business Model Canvas?
In creating your Business Model you'll need to take note of the components earlier as well as how you're going to format it. A basic format you can use can be seen below: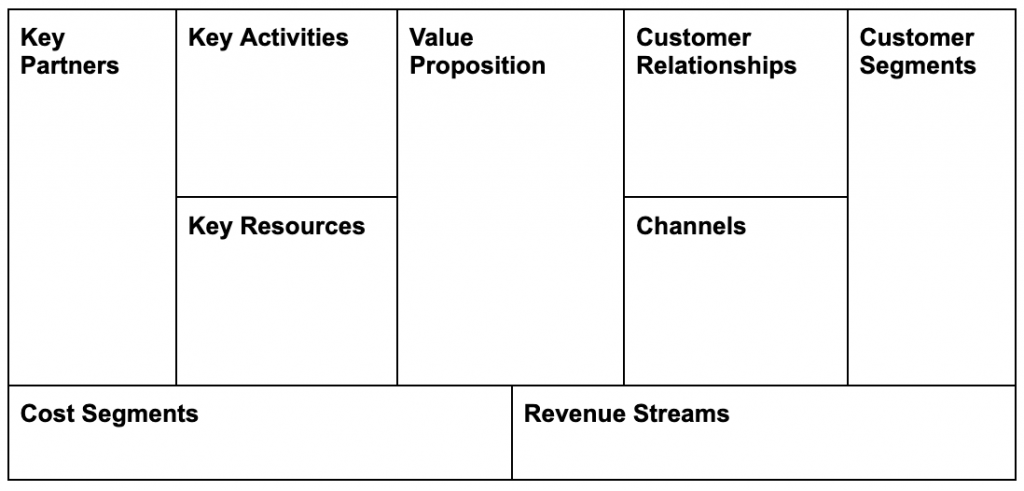 As a short guide, there are 5 steps that you'll need to follow in creating your very own BMC.
Step 1: Study your competition
Your competitors can teach you a lot. Map the business models of a few of your competitors. Once you have this data, you'll have a much better understanding of what your customers want and are prepared to pay for. 
You'll have a better understanding of how the needs of customers are met across the industry as a whole, rather than just within your own organization. You'll also learn a lot about how other companies, even those that are quite successful, have carved out niches for themselves in the market.
Step 2: Plan Out Your Business
Begin by creating a high-level business model that focuses on the most critical and vital components of your company's strategy. Make sure your criteria are as clear as possible so that you and others can still comprehend them after three months. Moreover, a more complicated design criteria should be divided up into chunks to be more understandable. 
Step 3: Connect the Components of your Model
All value propositions must have a consumer segment and a revenue stream in order to be successful. Take a step back after you're done. Take a look at the big picture. Take a few minutes for yourself and your team to reflect on what you've made. Is there anything more your team should have mentioned? Something slipped you or your team's mind?
Step 4: Review Your Work
Make an effort to see if every customer segment has a value proposition and an income source that can be traced back to it. In order to support the right side of the canvas, everything on the left side must be used. All of the rest can be discarded.
From there, evaluate your business' structure and performance based on various perspectives including but not limited to scalability, earnings, productivity, and protection from competition.
Optimize Your Business with Ginee
There are various and, to be honest, frightening problems associated with operating an online business in the wake of the COVID-19 Pandemic. Despite this,  Ginee Philippines has the tools that make starting and running an online business easy. Now more than ever before, corporate success may be achieved with the unique Business Optimization solutions from Ginee.
With Ginee's assistance, it's time for you to take the next step and actualize your dream of becoming the finest entrepreneur possible! You can try it out for free for 7 days by submitting the form on our website.
Upload Products to Shopee and Lazada

Automatically

! How?
Ginee product management allow you upload products to all of your online stores from all marketplace just once! Save time, save cost, save energy, join Ginee Now!