What Can Shopee Automatic Boosting help you do?
With the Ginee automatic boosting function, you do not need to go to the seller center to manually click the boost after every 4 hours. The system will automatically boost the products added to the queue for 24 hours in order, so as to increase the exposure of the products and obtain more platform traffic.
First : Go to Promotion Management > Auto Bump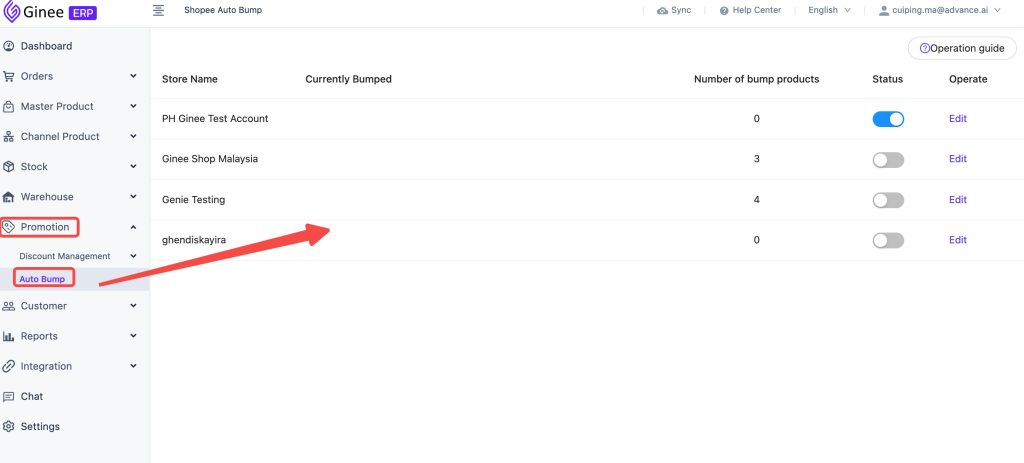 Second : Go to Edit > Add Product > Select products that you want to boost up > Save

After clicking Save, when the status switch is turned on:
Boosting by Turn:You can select 1-30 products for one store, and it will place them to the queue for boosting in turn.
Fixed Boosting:You can select 1-5 products for one store, after the boosting period is over, it will automatically repeat boosting.
Remove:Remove products from the boosting queue.
Note:
【1】 Max. 5 products for Fixed Boosting. If you mix Fixed Boosting product and Boosting by Turn the maximum is 25 in total!
【2】Products will be boost up for 4 hours, and cannot be ended manually, it can only be automatically ended by waiting boosting time finish!
【3】The priority of Fixed Boosting is higher than Boosting By Turn. If products are added to both queues, Fixed Boosting products will be executed first!