This page is used to search and set rules between stores and warehouses. For example, if you select multiple integrated warehouses for a store, these warehouses will provide stock and delivery services for the store. The establishment of store and warehouse integration is not restricted and can randomly set. If you want to cancel the integration between the store and the warehouse, you need to make sure first whether the warehouse to be cancelled has the stock occupied by the ongoing promotion. If not, you can cancel it. But if yes, you need to wait until the promotion ends or cancelled, then you can cancel it.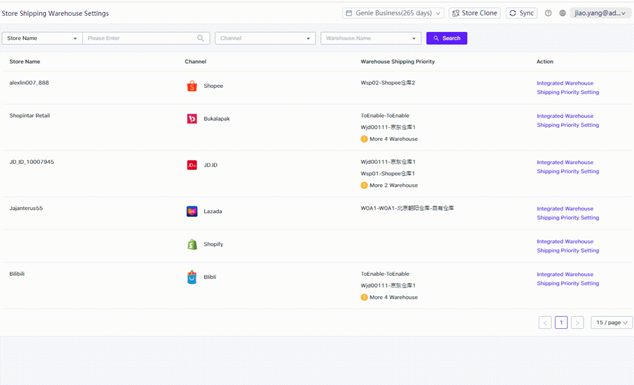 How to Enter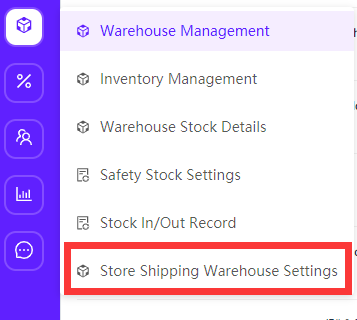 Set Up an Integrated Warehouse for the Store
A store can be integrated with multiple warehouses, and these integrated warehouses will provide the store with support for store synchronization, order delivery, and promotion stock occupancy. There are 2 ways to set the integrated warehouse in Ginee:
Set Directly
Click the "Integrated Warehouse" button on the right of the store name

In the Shipable warehouse menu in the pop-up window, select a warehouse for the store. When finished, click OK to submit.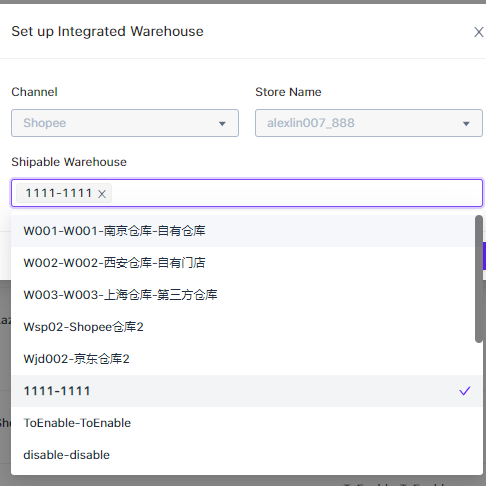 2. Copy the integrated warehouses of other stores and click "Shipping Priority Settings". In the drop-down menu of "Copy Warehouse Settings", you can copy the warehouse integration schemes that have been set for some selected store, Ginee will integrated the warehouses of the selected store and the warehouse shipping priority configuration scheme is copied to the new store. At the same time, you can also adjust the copied scheme.