With all the information flowing like a river on the Internet, sometimes it is hard for us to catch up. Especially for business owners who own a website store. Unlike online marketplaces such as Shopee, Lazada or Facebook Marketplace, which cannot provide brand awareness and show what your products are capable of, having a website store is the best decision. SEO Malaysia is a way for you to increase your website traffic.
When you have your own website stores, the opportunity to get more recognition is higher and you can be creative with your contents. But, the only problem that might make you unable to sleep at night is how many visitors come to your website store daily and how many of your customers purchase your products through your website?
SEO and SEM are tools that you can use to optimize your website. By understanding what are the differences between SEO and SEM, and how to utilize the tools to increase your website store, you need to worry any more. So what is SEO and how does it work?
What is SEO?
SEO stands for search engine optimization. It is the process of enhancing your website to improve its exposure when people search Google, Bing and other search engines for goods or services relevant to your company. The greater the exposure of your search results, the more likely you are to attract your company to potential and current consumers. 
Want to Put Digital Ads Everywhere Without Hassle?
Get the 360 digital marketing experience via Ginee Ads. Put your ads anywhere at any time, do them all in just one place!
SEO is organic search engine optimization Google traffic (also known as unpaid traffic) that is the outcome of optimising your website to appear higher on search engine results pages.
So what is SEO with example? Here is one: If someone Google search "Nasi Lemak Burger recipe," there might be a few articles that come out, but using the right keywords and tools, your Nasi Lemak Burger recipe post on your blog might be the number one on Google search. And that is how you increase your website traffic. But first, you have to know how SEO works.
How SEO Works?
Search engines strive to offer their users with the best possible service. Specifically, this implies that the search engine results pages should include results that are not just of good quality, but are also relevant to the searcher's search query. Consequently, search engines will examine (or crawl) various websites in order to get a better understanding of what the site is all about.
The information they gather helps them provide more relevant results to individuals who are looking for certain subjects or keywords. Additionally, search engines will scan the site to assess how simple it is to browse and read, rewarding sites that are easy to use with better ranks on search engine results pages (SERPs). 
A website's search engine optimization (SEO) is the process that businesses go through to ensure that their website ranks highly in search engines for relevant keywords and phrases. For example, you are writing about "Top 10 Quotes from Sajat." for your blog post. In order for your article to be in the top ranks on Google search, you will try to optimize the blog post so if anyone is looking for "quotes Sajat," your blog post will be on top of the ranks.
As for business owners who own website stores, by working to improve your SEO, you may strive to increase your exposure on search engine results pages. This allows you to reach and interact with a greater number of prospective consumers. It is possible to improve your chances of bringing in more targeted organic traffic by producing more interesting and effective SEO-focused content for your website.
Read also: Which Online Business Platform Malaysia is Best for Selling?
Examples of SEO
It's every person's dream to have their content on top of the rank on Google search results. It is hard to get there but it is not impossible. For a better understanding of SEO, here are some of the examples of SEO:
Don't Know How to Set Up Digital Ads? Don't Worry!
Set up Google, Facebook, TikTok Ads, and more with Ginee Ads. The best part is you can do all of this in one place. Check it out now!
Implementation of Long-Tail Keywords
SEO keywords are one of the most important components of search engine optimization. Through the use of keywords in your written online content, you can signal to Google which searches your content is most relevant to, allowing your content to rank higher for those searches.
You should specifically strive for long-tail keywords, which are ones that are several words lengthy and are difficult to rank for. As a result, longer keywords tend to be more specialised, allowing you to reach a more relevant audience while also facing less competition from other companies.
White Space
The visual design of your website is one of the most important factors in determining the entire user experience on your site. If your website has a sloppy look, visitors will not want to spend much time on it. And when visitors continue to click away, Google interprets this as an indication that you should be ranked lower.
Everything from colour palettes to page structure is included in visual design, which is made up of a variety of components. However, white space is one of the most important aesthetic components of a website.
In its most basic definition, white space is the space on a page that is not occupied by text, pictures, or any other visual components. Consider the difference between a page that is fully crammed with content and a page that is split up into tiny blurbs and short paragraphs. 
If you have a blog for your business website, you implement SEO writing. You wonder what is SEO writing? SEO writing (sometimes referred to as "writing for SEO") is the process of designing, developing, and optimising material with the main aim of improving a website's ranking in search engines such as Google.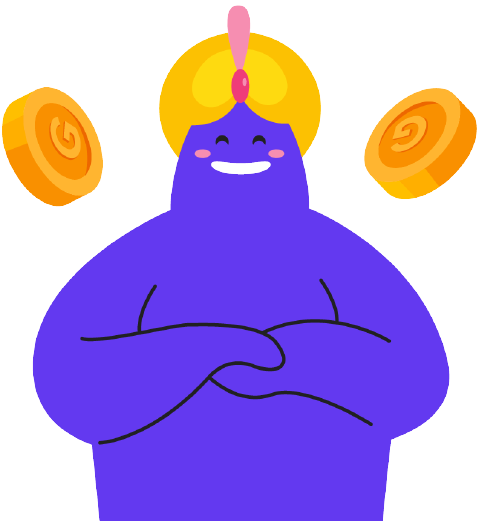 Enjoy Reading Our Article and Want to Know More About Ginee?
Are you an online seller that has lots of stores from multiple marketplace like Shopee and Lazada?

Well, you're in luck because Ginee can help you boost your business's efficiency and profits!
For your SEO writing, make sure to break up text into small sections by using headings, images, and white space inserted between paragraphs. So, your article would not look messy, and it will be easier for your readers to read. 
Captivating Title Tag and Meta Description
Once your content is ranked, you must persuade visitors that you should click on your site. If you don't, you won't keep up long because Google assumes that your website is not useful to visitors.
You must provide each one of your pages with a captivating title tag and meta description to make it the snippet in the search results. The title and meta should clarify what your company offers and why visitors should click.
Credible Backlinks
When Google ranks your website, one of the factors it takes into consideration is your reputation. If Google considers your website to be authoritative in your field, it will give you a better ranking. And one of the most effective methods to seem more respectable is to get backlinks from other websites.
A backlink is only a connection to your content from another website that is respected in your field. When Google detects a connection to you from a well-known authoritative site, it thinks you are also authoritative and raises your ranking accordingly.
Read Also: Branding and Awareness Through Facebook Page Malaysia 2021
How Many Types of SEO Are There?
You have reached almost the end, but don't skip yet. This is one of the crucial information about SEO. For your information, there are two types of SEO that you utilize to the maximum such as On-page SEO and On-page SEO. So what is the SEO tools?
On-page SEO (also known as on-site SEO) is the technique of optimising web pages for particular keywords in order to increase search visibility and traffic. It is a subset of search engine optimization. It entails matching page-specific features like title tags, headers, content, and internal links with keywords in order to improve search engine rankings.
Off-page SEO includes activities done off of a website in an effort to increase the site's search engine rankings. Common off-page SEO actions include building backlinks, encouraging branded searches, and increasing engagement and shares on social media.
Conclusion
SEO is a fast and free way for you to utilize it as much as you can. BY understanding and how it works, you can try and error, look for mistakes and fix them. Once you have succeeded, don't feel too comfortable. You have to strive for perfection. 
Ginee Collected Data for You
One of the best Ginee's features, Analytic Data Report, would not make you choose another platform to collect your data. Ginee Malaysia has all the features for you to try for free, register now to be part of Ginee-us. Trust me, you wouldn't regret it!
Upload Products to Shopee and Lazada

Automatically

! How?
Ginee product management allow you upload products to all of your online stores from all marketplace just once! Save time, save cost, save energy, join Ginee Now!