How to be famous on TikTok 2020? TikTok has unrivaled reach and penetration among teenagers and Gen Z-ers. The meteoric rise since its inception in 2018 is nothing short of amazing. From an obscure karaoke app to the top free entertainment app in the Apple store, its journey has been stupendous. No wonder everyone wants a bite of the TikTok pie.
How to be famous on TikTok in one day? But getting famous on TikTok isn't exactly a piece of cake. With 500 million active users, TikTok is a virtual battleground for content creators. Your content can easily drown in the tonnes of binge-worthy content that is uploaded there every second.
If you're a marketer or influencer, your chances to shine on TikTok are optimal since only 4% of marketers are using TikTok. One reason could be that TikTok is relatively new as compared to older platforms such as Facebook and Instagram. Another is that TikTok makers are quite secretive about their metrics, which makes TikTok marketing almost a shot in the dark.
Read Also: What is the Term of FYP on TikTok Malaysia? And How to Use?
8 Guaranteed Ways To Be TikTok Stars in Malaysia
How to be TikTok famous wikihow? Becoming TikTok famous is an aspiration shared by probably hundreds of millions of people around the world. Even though the platform has been out for a few years, it's not too late to become TikTok famous. Here are 8 guaranteed ways how to get TikTok famous in 10 minutes.
Consistently Post High Quality Content
Like most social media platforms, posting content consistently is key to getting more followers on TikTok. It's best to post at least once per day, every single day. It may sound like a lot, but you honestly can't really post too much on TikTok.
Want to Put Digital Ads Everywhere Without Hassle?
Get the 360 digital marketing experience via Ginee Ads. Put your ads anywhere at any time, do them all in just one place!
️
Posting more is always better, but there is one exception to the "post every day" rule. If you're TikToker that makes longer-form content, it's okay to post 2-3 times per week. Also, don't expect to get famous by frequently posting junk. Your content needs to be high-quality, always. No one wants low-quality content in their feed.
Find Your Niche
The idea of ​​being loved by everyone on TikTok is fun to imagine, but it's a bit more realistic to think about finding a niche and sticking with it. This is one of the best tips on how to get TikTok followers.
To find your niche, combine 2 or 3 things that interest you. For example, let's take marketing for your clothing brand. There are countless numbers of girls on TikTok who post videos about fashion, but if you post fashion-related content for girls who are taller than 5'10", you've got yourself a niche.
If you have a niche and you post high-quality content on a regular basis, you'll eventually get tons of followers, even if they aren't totally interested in the niche aspect. If you post awesome fashion-related TikTok like try-ons and product reviews, you'll get followers who love fashion even if they're shorter than 5'10".
Read Also: How to Start Your TikTok Live Streaming in Malaysia?
Think Outside The Box
How to get TikTok famous fast? It sounds cheesy to say "think outside of the box," but you need to be creative if you want to stand out on TikTok.
It's good to cash in on trends (more on that later), but it's also good to try and start them.
Don't Know How to Set Up Digital Ads? Don't Worry!
Set up Google, Facebook, TikTok Ads, and more with Ginee Ads. The best part is you can do all of this in one place. Check it out now!
Don't post exactly what everyone else is posting. Think of how you can bring something new to your niche or category. Make videos that are fun to watch and people will want to share with their friends.
Identify Trends and Join In on Them
It's good to be unique and creative, but if you're looking to get more followers, you should jump on trends.
Identify rising trends and make some content ASAP. TikTok trends may involve using a certain song, visual effects or type of joke. Keep an eye on what kind of potential trends are in your feed, and then join in on the fun! Just make sure to keep it high-quality.
Embrace Who You Are
Even if you want to get TikTok famous, your content shouldn't be all about what everyone thinks is cute or funny. It should be real and genuine. What do you think is cute or funny? Share it with the world even if you haven't seen other TikTok with that kind of style or humor.
If you want to be deep on TikTok, don't be afraid of sharing your opinions and points of view, even if they're not popular opinions. Some people will agree with you or at least respect your courage for going against the grain.
Take inspiration from other TikTokers, but stay true to yourself and share the personality that's uniquely yours.
Accept That Your Content Won't Be What Everyone Likes
Being TikTok famous doesn't mean that everyone will like you. Some people won't like your content and a few people may say negative things about you.
If someone disagrees with your opinions, it's good to hear them out, but if someone is being mean or downright negative, it's best to ignore them.
If you're trying to get popular on TikTok, it's best to accept the fact that some people won't like your videos. Remember, no one is liked by everyone.
Network With Other TikTokers
How to become TikTok famous overnight? There are a lot of TikTokers who want to get famous, but not everyone looks at it as a competition. Be friendly to your fellow TikTokers. Network with them to form friendships and even collaborations.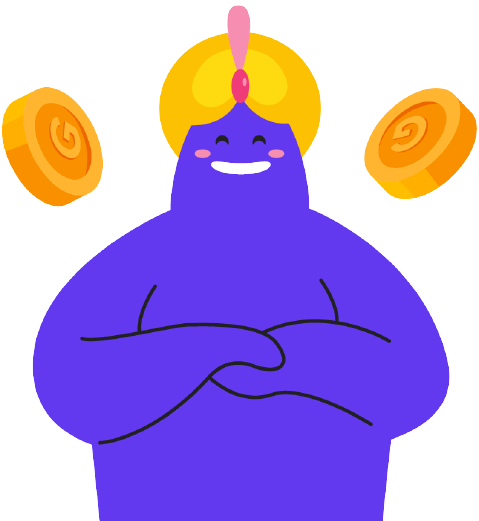 Enjoy Reading Our Article and Want to Know More About Ginee?
Are you an online seller that has lots of stores from multiple marketplace like Shopee and Lazada?

Well, you're in luck because Ginee can help you boost your business's efficiency and profits!
Some easy ways to engage with other TikTokers are by liking their TikTok, leaving comments and sending messages.
Collaborate With Brands
How to get TikTok famous hack? If you're out of the loop on what a brand collaboration is, it's when a brand hires a content creator (like a TikTok influencer) to make branded content for them. Surely you've seen photos and videos of influencers using certain products. That content was most likely sponsored by the brands that make those products. That's a brand collaboration.
Brands are betting heavily on influencer marketing, which only seems to be getting more and more popular. Something you may not know is that the brand doesn't always have to be the one that offers collaborations to influencers. TikTokers can use platforms like Incense to get in touch with brands that interest them and offer them a collaboration.
Brand collaborations are a great way to make awesome content and get paid for it. That's a win-win.
Conclusion 
Wondering on how to get TikTok famous for free? Although TikTok is the new kid on the social media block, its growth has been explosive. For content creators and marketers, TikTok's uncluttered ecosystem offers opportunities to grow.
If you're talented and have fire in your belly, nothing should stop you from becoming famous on TikTok. These actionable steps will help accelerate your journey.
Become TikTok Famous with Ginee Malaysia
Who doesn't like if their TikTok videos gain thousands of likes and views. Getting thousands of likes and views on your TikTok contents means you are doing it right. But, your customers still can kira with jari. What are you going to do next?
Yes, you can start with paid advertisements. But you do not know how to start and how much it will cost you? Worry less, human!
With Ginee Malaysia, you can advertise your products on so many platforms including TikTok. You do not have to hassle around trying to figure out how you are going to start.
Tunggu apa lagi, register Here for free!
Upload Products to Shopee and Lazada

Automatically

! How?
Ginee product management allow you upload products to all of your online stores from all marketplace just once! Save time, save cost, save energy, join Ginee Now!