TikTok is one of the most famous social media platforms for young teenagers nowadays. On TikTok, you will find a lot of people with hidden talents such as voice acting, singing, and dancing. But, did you know that you can actually do your business on TikTok Malaysia? Yes! All you gotta do is create content, use the correct hashtags and boom! You are on FYP. What is FYP? And how is it going to help you and your business?
For businesses, it can be one of the ways for you to advertise your brands and products. You can also use TikTok Shop Malaysia for your business. It would be great if you can utilize the hashtag and you can gain more views through For Your Page.
What is TikTok?
TikTok is a short-form video-sharing application that enables users to make and share 15-second films on any subject they want. But, TikTok has upgraded their software and TikTok users can share 15-second videos, 60-second videos, and 3-minutes videos. 
Want to Put Digital Ads Everywhere Without Hassle?
Get the 360 digital marketing experience via Ginee Ads. Put your ads anywhere at any time, do them all in just one place!
For businesses, it can be one of the ways for you to advertise your brands and products. It would be great if you can utilize the hashtag and you can gain more views.
Read Also: Malaysia Remains Attractive Trends for E-Commerce This Year
TikTok Term: What does FYP Mean?
Can you guess which generation thought that FYP on TikTok is Final Year Project? Some Malaysians claimining on Twitter that all they know about FYP is the term for their final assignment at the university. 
But, based on the TikTok term, FYP mean For Your Page. So what is FYP TikTok?
The For You page, or "FYP," is the first page you arrive on when you launch the TikTok app. It's a curated stream of videos from artists you may not follow, but TikTok's algorithm believes you would enjoy based on your interests and previous interactions. 
Based on the algorithm, you can easily gain more viewers and the next thing you become famous on TikTok Malaysia
TikTok creates the FYP algorithm through your likes and comments on TikTok videos. But, if you dislike the content of the videos, you can just click on Not Interested. Any videos that have such kind of your Not Interested videos will not appear. 
Ranking Factors on FYP TikTok
The Tiktok algorithm is tricky. Many TikTok users put tag TikTok FYP on their video description but sometimes it doesn't work. You still can get less views from the audience. So how does it really work?
Here are some how to get FYP on TikTok:
Interactions
The greater the number of comments, likes, shares, and duets your video receives, the more probable it is that the algorithm will recognise it.
Another important ranking element to consider is the percentage of videos that are completed. As more people watch your TikTok video all the way through, the more probable it is that it will be pushed out for wider distribution.
Don't Know How to Set Up Digital Ads? Don't Worry!
Set up Google, Facebook, TikTok Ads, and more with Ginee Ads. The best part is you can do all of this in one place. Check it out now!
Therefore, your content must be different from others. You can use editing software to make your TikTok videos prettier. And also, you need to have TikTok username that is easily for others to remember and stalk your TikTok account whenever they are bored
Trends and Sounds on the Video
Hashtags, noises, and captions are a goldmine of information that may assist you in getting into the For You page of the website. For example, if you include a popular hashtag or sound clip, your post is more likely to get discovered by the search engine algorithm.
Some businesses use sound trends even though it does have any relation to the content of their products just to get on For Your Page. You can search how to download TikTok sounds on Google. 
Configuration of The Device and Account
Your geographic location, language choice, device, and country setting all play a part in the creation of your TikTok FYP collection. Because, after all, a video of Budak Girl singing is only available on TikTok Malaysia.
These signals, on the other hand, do not carry as much weight as the others, allowing you the opportunity to reach a worldwide audience.
Mini FAQ
Of course, you would have a lot of questions on your mind if you are new to TikTok.
Here are some frequently asked questions by new TikTok users:
How Can You Use Hashtag to Appear on For Your Page?
Some users think that adding the hashtags #fyp or #ForYou would help them get their work in front of more people, however this is only a myth. This has never been verified by TikTok, and using these hashtags does not ensure that your video will become popular.
Instead of relying on hashtags as a crutch, you should focus on including keywords that are relevant to your content and industry.
Here are some simple hashtag guidelines to follow on TikTok:
Don't use hashtags for anything. Select a limited number of hashtags that are relevant to your post.
Combine well-known hashtags with less well-known ones.
Make use of hashtags that are currently popular in your field.
Enter hashtag challenges and see how far you can go.
Make use of the hashtags #fyp and #ForYou, but don't only depend on them.
When Should You Post Your TikTok Videos?
After you've accumulated 100 followers, check your free TikTok pro account to discover when people who like Tiktok videos are most likely to be active. Make an effort to post a video at a time when people are most active.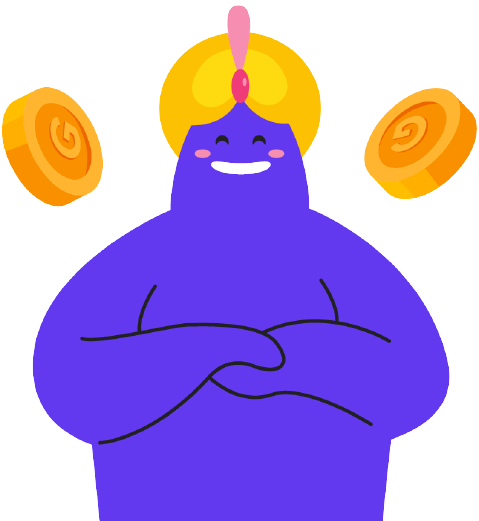 Enjoy Reading Our Article and Want to Know More About Ginee?
Are you an online seller that has lots of stores from multiple marketplace like Shopee and Lazada?

Well, you're in luck because Ginee can help you boost your business's efficiency and profits!
What Captions Should You Write on Your TikTok Video Description?
You only get 150 characters, which includes any hashtags you use, which means you have less characters at your disposal than you would have if you were tweeting.
Because of the restricted amount of real estate available, you must concentrate on creating concise captions that encourage visitors to interact with your information.
The perfect TikTok caption should have the following elements:
Make your points succinct and use relevant hashtags.
Encourage others to participate.
You might add a layer of intrigue to the situation by adding something like, "this took me five tries to get perfect" or "stay tuned till the finish." This may entice people to stay and watch the whole film, which would be beneficial.
Another approach is to pose a question to the audience. Getting people to watch and respond to the video is another engagement element, and getting them to do so may assist in conveying all the correct signals to the link FYP algorithm.
Read Also: Online Shopping Statistics in Malaysia You Should Know
TikTok is The New Advertise Platform
TikTok has become a new platform for brands and businesses to promote their products with just 15-seconds videos. Some TikTok influencers manage to get their hands on products to review to their TikTok viewer, and still get engagement and money.
For small businesses, it is time to elevate your marketing strategy by using TikTok.
With Ginee Malaysia website, Semua Boleh!
Are you an online seller who still has not used advertisements to promote your brands and products? To use some paid advertising might be tricky if you do not know how it works. Especially when you are in Malaysia, and you have to pay for the ads with dollars.
Worry less, my dear. Ginee Malaysia provides you with professional help on how to advertise your products and services. With 360 degree digital marketing services, you can achieve your goals sooner than you thought. 
Register HERE for free!
Upload Products to Shopee and Lazada

Automatically

! How?
Ginee product management allow you upload products to all of your online stores from all marketplace just once! Save time, save cost, save energy, join Ginee Now!