For buyers who do not have a bank account, of course, it will be difficult when shopping online. But this can be overcome by using the COD payment method. One of the marketplaces that provides this payment method is Shopee. With COD in Shopee, buyers can shop and pay when the goods arrive. See more about COD in Shopee below.
Read also: Shopee Keyword Ads Malaysia: On Top of Search Page
How does Cash on Delivery Work for the Seller?

For sellers, you can only receive money from COD and wait for the Shopee seller to review if the order has been received by the buyer. To enable this feature, sellers must first ensure that they are within the coverage of Shopee's Supported Logistics courier service. Some of the shipping providers available for COD Shopee J&T Express, Shopee Express, DHL eCommerce, and Ninja Van.
There will be a Shopee COD limit for orders with COD payment option from 26 August 2021. The Shopee COD amount limit Malaysia is RM250 for orders. 
How to Arrange Drop-off/Pickup for COD Orders?

Orders through COD payment will be displayed on the "Unpaid" tab for 2 hours from the time of the order for the COD's Confirmation Period.
You can arrange drop-off/ pickup once the 'Arrange Drop-off/Arrange Pickup' status is available. 
Your Selling Stock is Messing Up? You Need Help!
Ginee Omnichannel allow you to automatically sync every stock from all of your online stores. It's faster way to helps you profit!
COD Airway Bill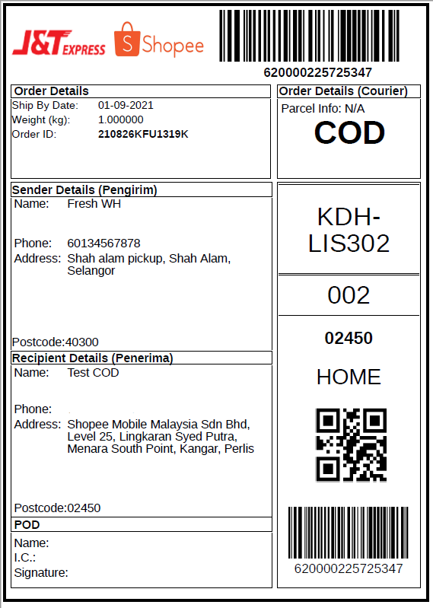 For COD orders, please make sure that the COD indicator is reflected on the Air Waybill. A COD Shopee seller tag is an indicator needed for couriers to collect payment accordingly. 
However, if you use third-party services designed to print your Air Waybills, make sure the tag is reflected on the Air Waybill of COD orders.
In addition, you can print your Air Waybill through the Shopee's Seller Center for COD orders to avoid payment issues that are not collected.
COD Order Fulfillment Process

You can arrange for drop-off while sending parcels to buyers. Then drop off the parcel to the drop-off point. After the parcel is in the hands of buyers, buyers will pay to the courier. When the order is completed, your escrow is released.

For the pickup process, a logistics partner will pick up and deliver your parcels to the buyers. Then buyers will pay the courier upon delivery. Your escrow is released, when the order is completed.
How to Activate CoD in Shopee Seller?
You can enable the COD option in the Shipping Settings page. Here is how to activate in Shopee Seller.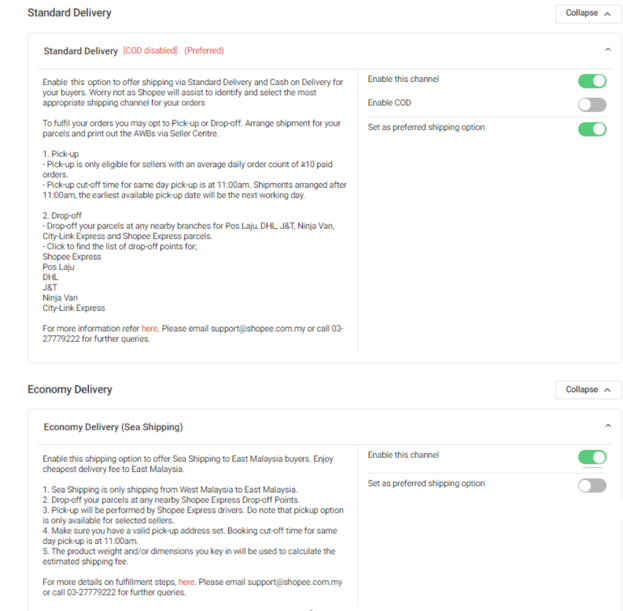 Click on the enable COD toggle to activate the COD payment method. Then how to remove COD in Shopee? To remove the COD option, you only need to click off at the toggle.
Do You Want to Manage Multiple Marketplace Just by Single Person?
Of course you can! You can handle multiple stores from all marketplace just by single dashboard. Cut your Business's cost, and Boost your Efficiency at the same time.
Working of Cash on Delivery (CoD) and its Process Flow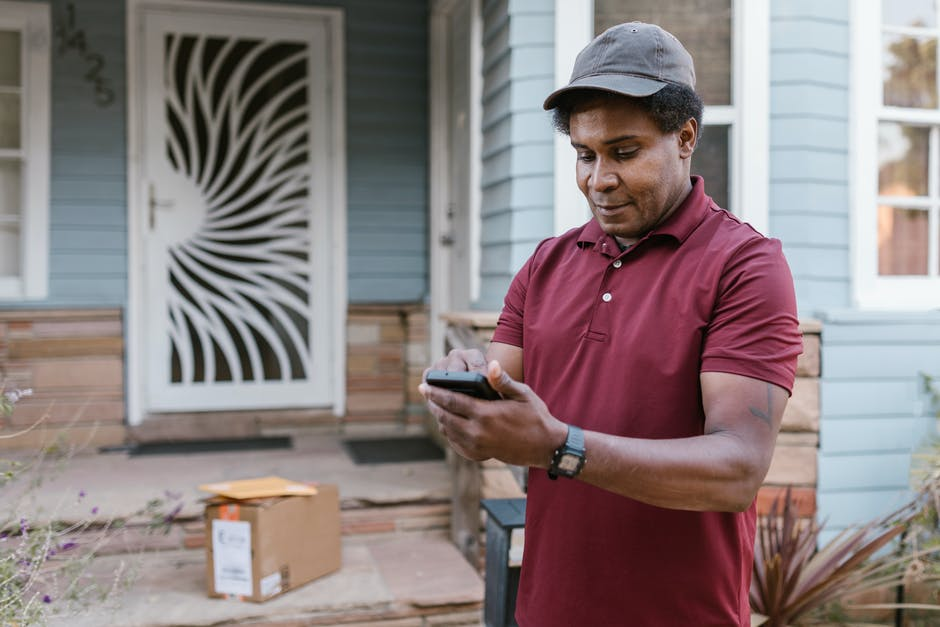 How does COD work in Shopee seller? The seller can get the CoD money and the COD pending review Shopee seller if the buyer has received the order. 
If you want to use Cash on Delivery Shopee from a seller, there are a few things you need to know, including process flow. First, you need to make sure you're in the covered area. If there is no Shopee CoD option, it means you are outside of the covered area.
How to Pay with COD?
You might also additionally refer with the pictorial guide below on how to pay using COD. 
Proceed Checkout as Usual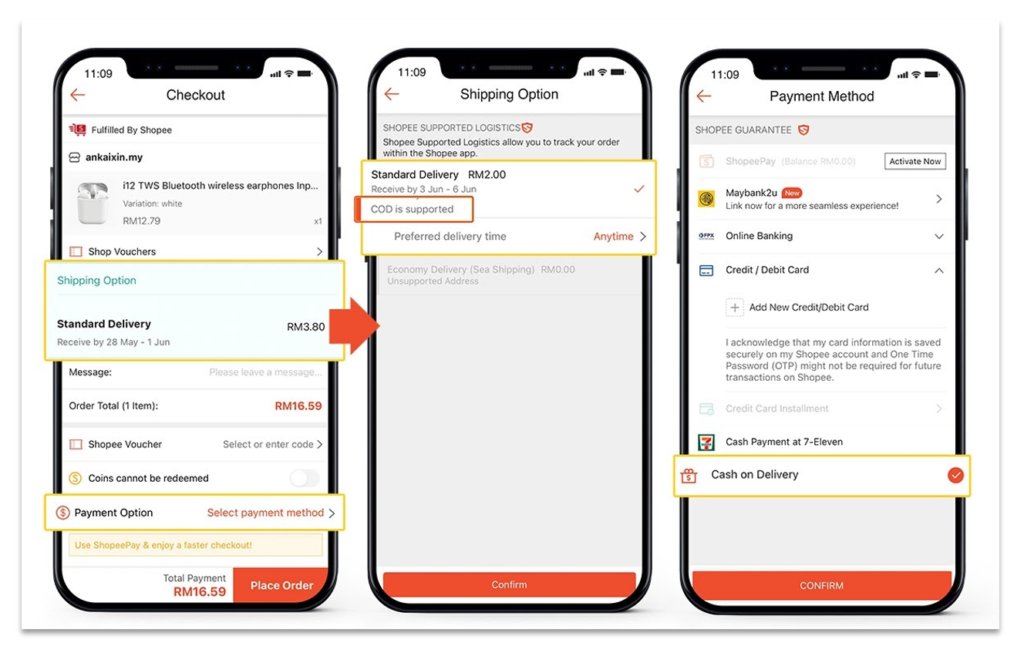 Kindly continue to checkout as usual. To choose the 'Standard Delivery' with 'COD is supported' shipping option and click on the Payment Option section to choose the "Cash on Delivery" payment method. After which, you can place your order. 
See Orders in To Pay Bucket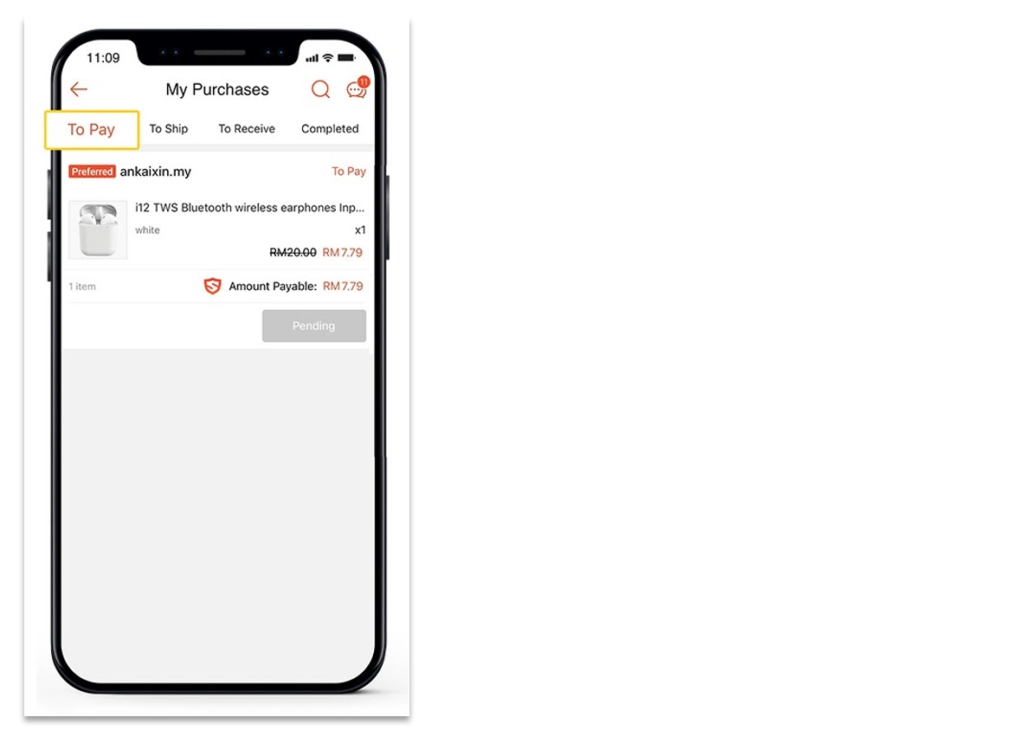 Once you've placed your order, your order may be parked below the "To Pay" bucket under My Purchases for two hours (COD Confirmation Period). During this period, you can cancel the order when you have changed your mind on the usage of COD. If you want to change your payment method, kindly cancel your order and make others purchase using your new preferred payment method.
See To Ship Bucket After COD Confirmation Period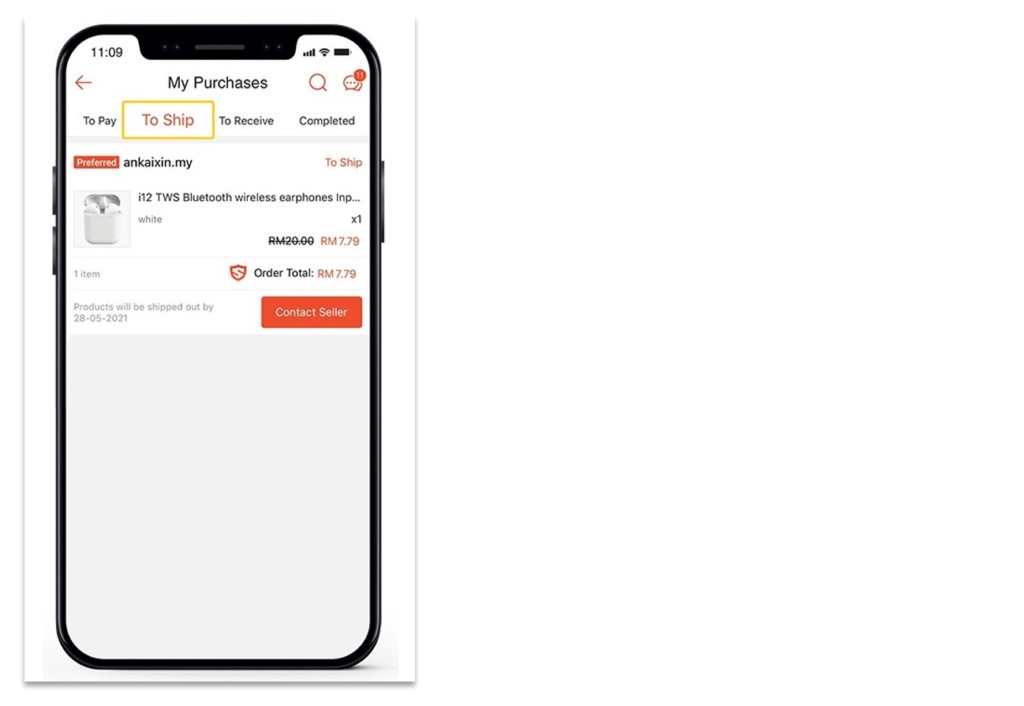 After the Confirmation Period of COD, your order will be parked under the "To Ship" bucket below to My Purchases. The seller will be notified of your order shipment. You will not be able to complete the order before the courier has delivered your order. 
Click Order Received
When the courier delivers your orders, you must pay cash directly to the courier. The courier will update your order to "Delivered", then you can complete your order in the app to release the escrow for the seller. Note that the payable amount will be rounded to the nearest 5 cents when you pay in money.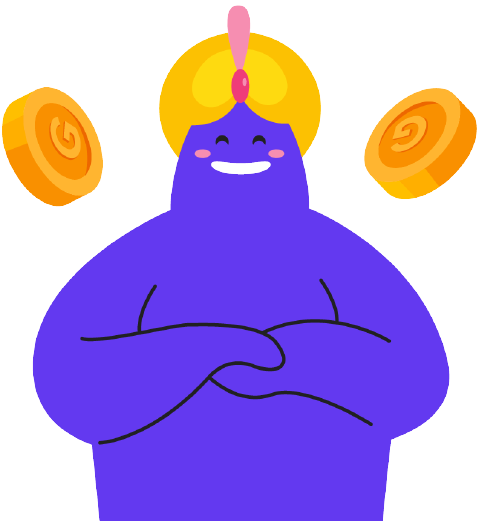 Enjoy Reading Our Article and Want to Know More About Ginee?
Are you an online seller that has lots of stores from multiple marketplace like Shopee and Lazada?

Well, you're in luck because Ginee can help you boost your business's efficiency and profits!
Benefits of COD?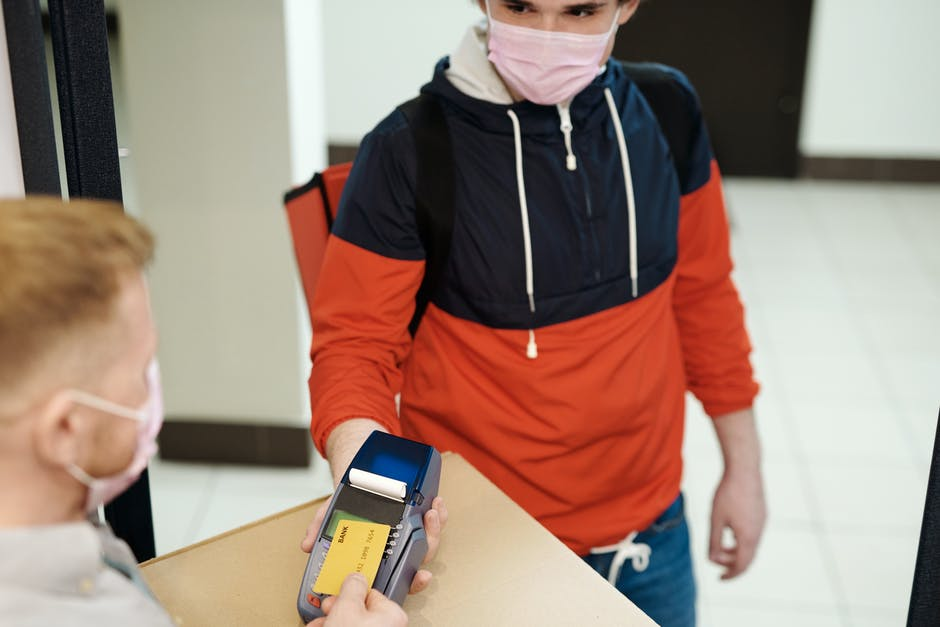 Are you wondering what are the benefits of COD? COD can give you many benefits such as follows:
Lowered Cost: Receive a discount on transaction fees at a promotional rate of 1%* (before SST) on all cash on delivery orders, compared to 2% (before SST) on orders through other payment methods.
Get Featured for More Visibility and Increase Your Sales: Get a chance to be featured on a COD microsite along with other bestsellers to boost your sales! 
New User Discount Vouchers: Increase sales of COD-enabled items with Shopee sponsored vouchers!
Free Returns: Failed delivery will be returned to the seller free of charge and Shopee will compensate if the returned package is damaged.
Increase Customer Reach: Reach a broader customer base that likes COD!
Read also: How to Use Discount Promotions Shopee Malaysia on Your Products?
Conclusion
Some of the shipping providers available for COD Shopee J&T Express, Shopee Express, DHL eCommerce, and Ninja Van. Go to the Shipping Settings page to enable the COD option. For sellers, you can only receive money from COD and wait for the Shopee seller to review if the order has been received by the buyer. 
Some benefits of using COD such as lowered cost, get featured for more visibility and increase your sales, new user discount Shopee vouchers, free returns, and increased customer reach.
Join Ginee Malaysia
Besides knowing the Shopee insurance for products, you also need to know how to handle all your online stores registered in Shopee with the help of Ginee Malaysia! Ginee is the best option for you to handle online stores in a single dashboard. Ginee has features such as product management, stock, order, promotion, Ginee Chat, and many more. Register to Ginee Malaysia now for free forever!
Upload Products to Shopee and Lazada

Automatically

! How?
Ginee product management allow you upload products to all of your online stores from all marketplace just once! Save time, save cost, save energy, join Ginee Now!